How does Nd:Yag work on dark skin?
Nd:Yag works on dark skin by targeting the blood supply that is attached to the hair follicle.  This wavelength is configured so that it targets the blood supply that is connected to the hair. Lasers are configured into wavelengths. Wavelengths indicate how far the laser will  penetrate into the skin and what it targets. Each wavelength targets different sections in the skin and has different effects on each target. The Nd:Yag works on a wavelength of 1064nm, this delivers energy 4-5mm into the skin. The average depth of a hair follicle beneath the skin is 3-4mm. As the blood supply to the hair is situated deeper in the skin the Yag penetrates this far into the skin in order to reach this target.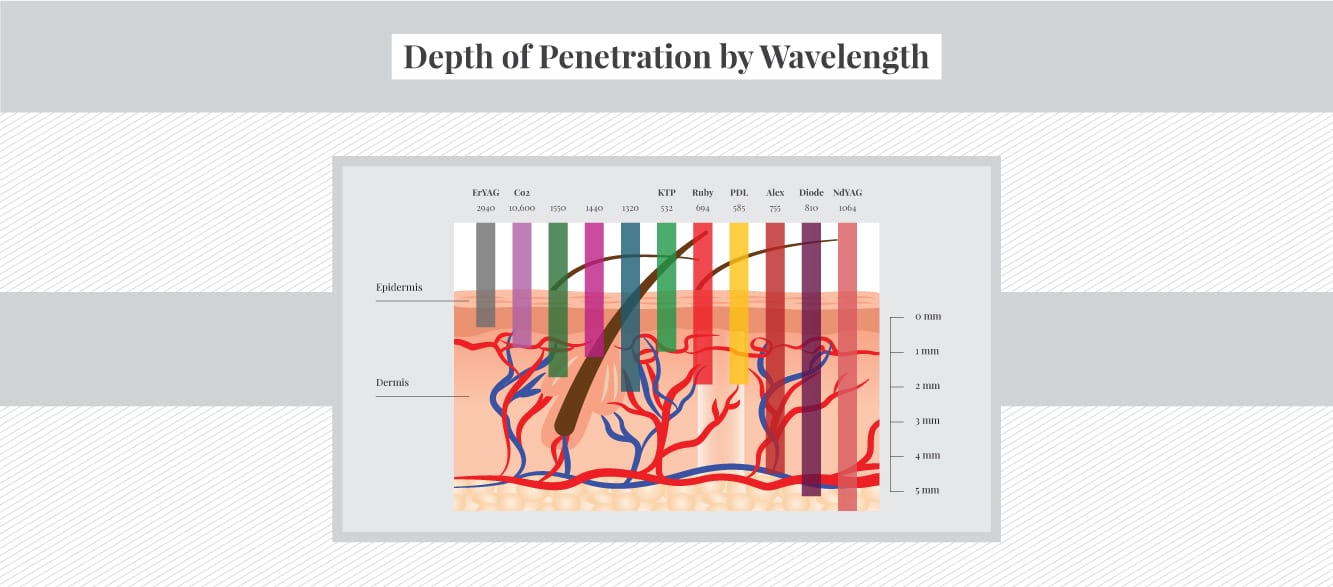 The Nd:Yag does heat the follicle slightly, however it's absorption into melanin is poor. That is why it is safe to use on darker skin types. When this laser is pulsed over the skin it doesn't affect the melanin so is a much safer option. How Nd:Yag works on dark skin makes it a very safe option for darker skin types.
Is laser hair removal with Nd:Yag safe for dark skin?
Yes, laser hair removal is very safe for dark coloured skin but care and attention must be taken to ensure the correct wavelength is used. We use the Fitzpatrick skin scale to differentiate between skin types. This scale is used to determine which skin type a person is and allows us to choose a setting on the laser that corresponds safely with this. Skin types 1-3 are treated with Alexandrite. While skin types 4-6 are treated with Nd:Yag. 

Why is it so important to use the correct wavelength of laser on dark skin?
For the safety of your skin it is important to use the correct wavelength of laser on dark skin. There are a few different wavelengths that are used for hair removal 755nm Alexandrite, 1064nm Nd:Yag and 810nm Diode. The most effective wavelength to treat darker skin types is the Nd:Yag. This laser will successfully target hairs while leaving the surrounding skin and tissue safe. How Nd:Yag works on dark skin is completely different to how Alexandrite works on pale skin.
It it important to note that the Alexandrite is not recommended for dark skin types. This laser is too focused on targeting melanin to use. It delivers heat too rapidly into the skin and will lead to skin damage if used. As you can see from the diagram below the two different wavelengths target 2 completely different things. Alexandrite is focused on melanin and Nd:Yag is focused on the blood supply that is connected to the hair. This method is safe to use on skin types 4-6 safely with no adverse reactions. IPL's are also not recommended for dark skin.

How many sessions are needed with Nd:Yag?
It may take slightly more sessions to achieve results if you have dark skin. Because the Nd:Yag works slightly differently it can take longer for the hair to respond. This really depends on individual circumstances, some people tolerate laser a little better than others and may need less sessions.  During a consultation we will discuss through all aspects of treatment. If you have any underlying medical issues we will explain how these may affect your treatment. We assess the hair and the skin in the area and perform a patch test for you. After your patch test we will get a sense of how you tolerated treatment.
On average you may need 8-12+ sessions if you have dark skin. If you have an underlying medical issues that relate to hormones for example PCOS you may need more than this.  After your initial course you may need 2-3 sessions a year to maintain your results.
Does laser hair removal hurt if you have dark skin?
This really depends on the person. Some people will tolerate laser hair removal treatment better than others. For some it will feel like a slight hot pinch and for others it will feel sharper. It is common for it to feel a little more uncomfortable at the beginning. This is because hairs will be thicker so more energy will be absorbed by the skin. As treatments progress and hair growth lessens treatments will become much more comfortable. Treatments should never feel extremely intense, if this happens their is a high chance settings on the laser are too high. One of the reasons we do a patch test is not only to test your skin but also to find a setting that is comfortable for you to start.
During a course of treatment settings must only be increased at a pace that you feel comfortable with.  During treatment you are always in control, if you feel the setting on the laser is too much please talk to your therapist. Settings are always adjusted to a level that is comfortable for you.
A patch test is essential before starting laser hair removal
Your consultation and patch test is without doubt the most important part of your course. Your treatment areas need to be assessed to ensure laser will work for you. A patch test is also vital to make sure there are no adverse reactions from treatment.
We would always insist on a patch test before starting a course of hair removal with us. This allows us to test your skin before treatment to make sure the setting on the laser is safe to use. It also allows you to feel the sensation of the laser before you start with us. This really puts you at ease before your first session. You get a chance to meet with us and allows us to assess your treatment area so we can make sure it is suitable for treatment. It is very risky to start laser without a patch test, skin can react to laser if the correct setting has not been selected. Put the safety of your skin first and do not start a course of treatment unless you have been patch tested first.
How to prepare for your laser hair removal treatments?
Do not wax, shave, epilate or pluck hairs 4-6 weeks before you start laser and throughout your course of treatment
Shave your treatment area 24 hours before your laser session
Do not exfoliate 2-3 days before your treatment
Wear loose cotton clothing on the day of your session
Treatment area should be free of any topical products, ie fake tan, oils, creams, lotions etc.
Do not take any new medications without contacting us first as some medications are contraindicated to laser treatment
Avoid sun exposure throughout your course of treatment with us
During your consultation our laser hair removal consultant will guide you through what you need to do before, during or after each one of your treatments. Preparing for laser hair removal is extremely important in order to avoid reactions from laser. Our guidelines are easy to follow and will ensure your treatment course runs smoothly. If you have dark skin it's so important for you to know how does Nd:Yag work for dark skin and why you need to choose this laser.
We successfully treat all skin types in our clinics
We are a dedicated to laser hair removal. It's not what we do, it's all we do, so it's safe to say we're very focused on it. We treat 100's of clients every week with different skin types. When you choose to have your treatments with us, we put your safety first. Results are monitored every step of the way to make sure you are seeing progress. Treatments are not rushed, time is given to cover your treatment areas correctly. Your first set is a consultation and patch test, these are without doubt the most important part of your treatment course. 

Contact us today to book your consultation.