Facial Hair And How Best To Remove It
Facial hair growth is a normal genetic factor that starts to develop in adolescence. During teenage years and into your twenties, men and some women may develop strong hair growth on the face. Facial hair growth is a mainly a result of hormone changes within the body during puberty. Women may also find as they get older estrogen levels start to decline and they may see an increase in growth in this area. These hormone fluctuations differ from person to person and this will effect the amount of hair that may grow. We deal with facial hair all the time and know how best to remove it. We deal with facial hair and know how to remove it so please don't be nervous to contact us.
Hair growth may also be hereditary, if either or both of your parents or extended family members have an issue with facial hair, chances are you may have too. There are also a number of medical conditions that may cause hair to grow, PCOS, endometriosis and thyroid issues are to name but a few. For some people they may be absolutely fine with having facial hair but for others it may be embarrassing.
If you are embarrassed about this, what can you do to remove facial hair?
Laser hair removal is the best way to remove facial hair. For laser to work the hair in the area will need to be dark in colour. Although there are a number of hair removal solutions available most only offer short-term hair-free periods at best. Most people who want to remove or reduce facial hair will want a long-term solution. Laser is the option that will allow them to see results fast.
For most other hair removal techniques you have to allow your hair to grow.  When you are undergoing a course of laser you can remove your hair the whole way through your course. You do not need to let it grow in order for us to treat it. This means you can be hair-free all of the time. If you are dealing with facial hair you are most likely searching for how best to remove it.
How does laser work?
For laser hair removal to work on facial hair, the hair has to be mid-dark brown or black in color. Any light, blond, grey or white hairs will not respond to treatment. We would recommend waxing or electrolysis to remove these light-coloured hairs. Hairs that are mid-dark brown or black in color will respond the quickest, you will see a reduction in these hairs from your very first treatment.  If these hairs were coarse and thick over time they will reduce to soft fine hair over time and some will be completely removed. After your initial course of treatment, top ups will be required to maintain your results. If you are dealing with facial hair you are most likely searching for how best to remove it. Laser hair removal is the treatment you have been looking for.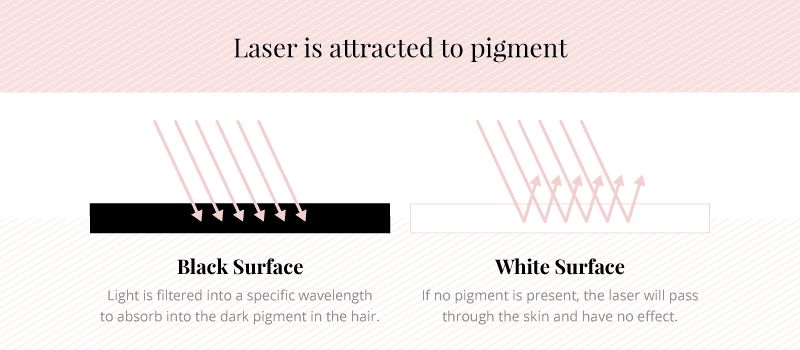 What if I have a medical condition causing hair growth?
If you have an underlying medical condition, laser hair removal may take a little longer. You may also need more top-up sessions to help maintain your results.
Laser can only treat from the outside in, it is impossible for us to stop your body from creating the hormones that are causing this hair to grow. That is why our consultants will always be realistic when explaining what results you should expect. We ensure you're fully informed and are aware of what will be possible for you to achieve. It's important that we are open and honest with you so you know what your outcome will be.
Before you start treatment we would always recommend you come in to see us for a consultation. Our consultant can have a look over your areas and assess your hair. Then we can let you know if it is suitable. We would recommend you allow your hair to grow so we can see it's color and density. This is important as it is impossible for us to determine if you are suitable unless we can see hair.
All of our consultations are free of charge and take about 30 minutes. In this time our consultants will go through everything you need to know about facial laser hair removal and how best to remove it. They will go through any concerns and answer any questions you may have. We will also perform a patch test to see if your skin and hair is suitable.
Our therapists perform laser treatments on the face on a daily basis and will put you at ease. Contact us today to get started.